You don't have to eat through 7 patties of beef to understand that Windows 7 is a big deal.  Microsoft's flagship product went on sale October 22nd and blew away its predecessor Vista.  The actual difference is a staggering 234% increase over Vista, according to NPD Group's market research.
Even with the economy still on the rocks, aggressive sales promotions and pre-release discounts aided the Redmond giant in pushing out Windows 7 with major success.  NPD mentions that PC hardware sales are down in comparison to the Vista launch, and it makes sense.  With the low system requirements, Vista users have had no problem upgrading to Windows 7.  Many Windows users who skipped Vista because of its memory hoggish ways are able to transition from XP to 7 with minimal performance differences.
So how is 7 holding up compared to the other Operating Systems on the market?  A look at Nmarketshare's tracking statistics will show accurately that over the past three years, XP has dominated the market with little loss to its user base.  Starting out in 2007 XP controlled 77% of the OS market, with Vista trailing at long at 17%.  Sorry Mac fans, but OS X has only just barely peaked above a 4% reach, but now with the release of Windows 7, Mac is on a steep decline.  The release of Windows 7 is also bringing on the most precipitous decline in Windows XP users since 2008, as many are upgrading with great sighs of relief.  Finally, all the features of Windows Vista without all of the baggage.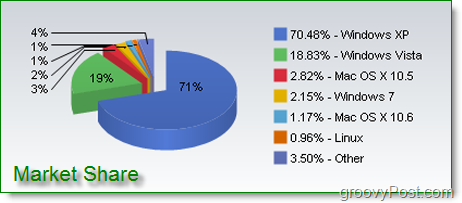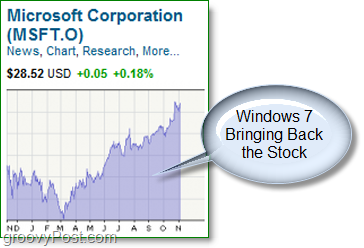 Since the pre-release of Windows 7, Microsoft stock has started climbing uphill.  According to Brian Mcbride from Amazon.com "The launch of Windows 7 has superseded everyone's expectations, storming ahead of Harry Potter and the Deathly Hallows as the biggest grossing pre-order product of all-time at Amazon.co.uk, and demand is still going strong."  It's no wonder; this is just the boost Steve Ballmer needed to keep his side hair growing strong.